"To make a real Digital Transformation, think of how you can weave a 'digital thread' through your operations, products and services to support new customer experiences you're trying to create" Neil Ward-Dutton Vice President, AI and DX European Research Practices; IDC
The role of merchandising in creating a customer experience is well known. Way back in the 1970s, advertising genius Morris Hite said, "Advertising moves people towards goods; Merchandising moves goods toward people." This still holds true. What has however changed, is the role and scope of Merchandising.
The pace of retail has changed, and customers want the product quickly. Retailers are competing with each other to provide the fastest service. Case in point: Amazon India has a one-day delivery option; but has been pipped by the Indian retail giant Croma, which promises a three-hour delivery on certain products.
How can merchandisers stay on top of their game?
According to a retail insight published by McKinsey & Company ; few strategies that a merchandiser can adopt are:
Working with cross-functional teams to optimize vertical integration.
Working with third-party partnerships to upsurge the supply chain.
Staying highly nimble and adaptive to changing customer trends and needs; without diluting the customer experience.
Leveraging automated technologies to support decision making
Focusing on proactive category management
Relying on analytics for decision making rather than on instinct and gut.
However, this is still a "wish-list" for most merchandisers. In reality, most merchandisers spend two-thirds of their time gathering data, managing exceptions, firefighting, participating in meetings and only one-third of their time working on critical strategy and analytics or insights (Source: McKinsey survey).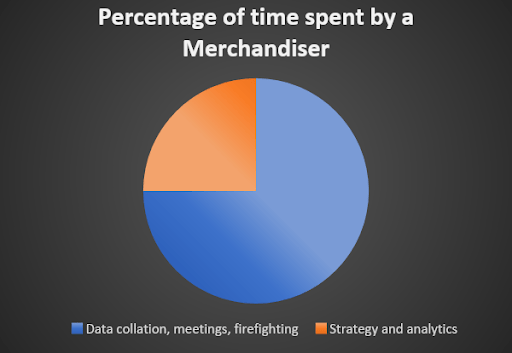 The Next-generation Merchandiser
Like all other roles, the role of the technology will play a key role in merchandising too.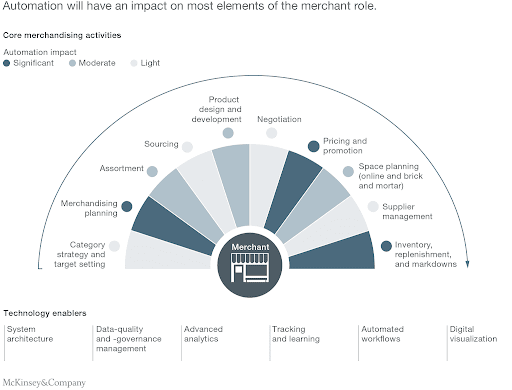 Automated predictive analytics will reduce the time spent on developing manual planning reports; smart planograms will replace the practice of drawing planograms; analytical decision models will help manage inventory better and analytics will help in negotiation and sourcing decisions.
Building tomorrow's merchandising organization
The first step towards building tomorrow's merchandising organization is to become more agile, digitally enabled and use advanced analytics.
The structure of the organization also plays a role in the success of merchandising. The three common types are: standalone e-commerce unit; semi-integrated e-commerce with a centre of excellence; fully integrated e-commerce in business.
The first approach is a common starting point; the second is most common in a ramp-up and most mature companies adopt the third approach.
The key questions to be asked before adopting an approach are:
What is the scale of the impact at stake? Would the returns of the decision offset the costs?
What technology resources are realistically available internally?
What is the problem that you are trying to solve?
What is the optimal timeline for success?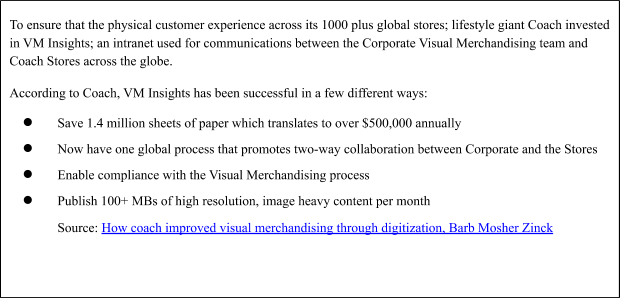 Developing a Digital Merchandising Strategy:
"As consumers opt to browse the "digital shelf" more often and the marketing role in digital commerce evolves, digital merchandising presents a leadership opportunity for marketers" Jennifer Polk, Research Director, Gartner for Marketing Leaders.
Merchandising is the heart of retail and like every other area must evolve with the times. A great digital merchandising strategy can boost sales and build a long-term customer base. A few pointers to help you develop a winning strategy are:
Data! Data! Data: Ensure that you have a process in place to acquire detailed customer data. The more you know your customer, the better chances you have to reach out to them. Tools like Google Analytics and built-in metric tools on your e-commerce website help you to harvest data effectively.
Detail! Detail! Detail: One of the common frustrations reported by online shoppers is the lack of detail about the product/s. Marketers must provide detailed product information across many digital touchpoints; time is precious to today's customer and she would rather buy from a place where she gets all the information easily.Another focus area is product discovery. Your ecommerce site must showcase your newer products to your customers. Targeted ads, visual merchandising (as opposed to text-only lists), hassle-free shopping all contribute to an enjoyable experience and will result in loyal customers.
Delight! Delight! Delight: It is all about customer delight. A customer-centric approach is the only way to succeed. Personalizing, guided selling, easy-to-navigate website all go a long way in delighting your customers.
End Note
Next generation merchandisers will spend more time on strategic issues: calendar development, category strategy and vendor negotiations; leading to greater process efficiency. This will result in a leaner; more streamlined and more productive merchandising organizations that are technology driven.
"We see our customers as invited guests to a party, and we are the hosts. Its our job every day to make every important aspect of the customer experience a little bit better." Jeff Bezos