Another day, another buzzword! The term "brand activation" has become an industry buzzword. What does the term mean? Is it just a trend or a strategy? Is brand activation the same as brand marketing? Allow us to take you through the concept of brand activation and explain the benefits of this strategy.
What is Brand Activation?
Brand activation is a marketing interaction created between consumer and the brand where the consumer understands the brand in a better way; perceiving the brand as a component of their lives.
Effective brand activation influences consumer to engage with brands; leading to higher customers to experience better brand engagement. Brand activation does not mean activating the brand, but the goal is to create an active customer who is primed for activation.
Brand activations are generally a one-off, in-person events, experiences and interactions that create lasting emotional connections between the brand and the target audience.
These are few examples of great brand activation strategy. For more examples, go here and here.
IKEA: Private Dining Club
IKEA doesn't want to be just another store. By incorporating interactive elements into their enormous showrooms, IKEA attempts to help shoppers feel at home in order to encourage a deeper bond overall. One of these interaction initiatives, The Dining Club, allowed customers to bring their cooking skills to light and to connect with friends and family with IKEA's help.
Watch the video here
HP: Zero Gravity Printer 
In a high publicity brand activation dreamt up by HP to promote the release of their anti-gravity photo printer to be used by astronauts in space, HP sent a plane full of influencers, reporters, and members of the HP corporate board on a ride with minimal gravity. Even though this activation doesn't have the participants directly interacting with the product, a professional photographer was hired to take photos of the guests and send the photos out after the event. Due to the nature of the product being released, a photo printer, this type of take-home was the next best thing.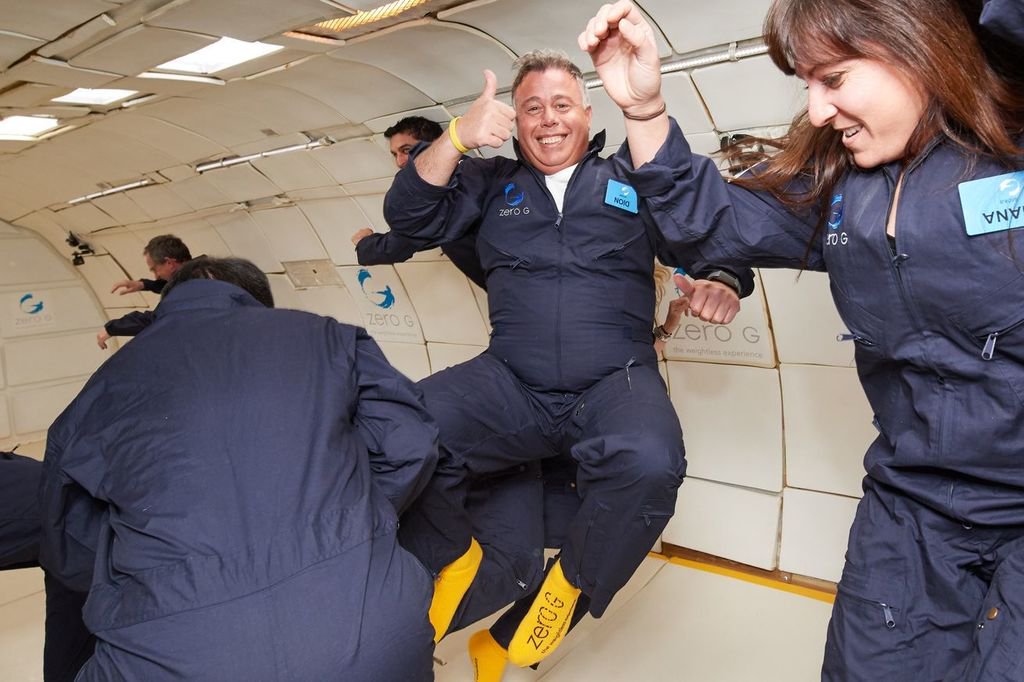 Source: Verge Science
Five Phases of Brand Activation
The process of brand activation can be split into five phases. At each phase, brainstorm for answers to these questions:
Discovery: What does your brand mean? Who are your customers? What do they want? What do they seek in a brand?
Strategic Development: What communication strategy is best suited to your brand? What are the channels that are best suited?
Creative Development: What are the creative ways of executing the strategy?
Delivery: What is the mode of delivery? What are the implementation plans?
Evaluation: Was the activation strategy a success? How do we evaluate success? What went wrong? What did we get right? What are the lessons learned?
Effective Brand Activation Strategies
Brand activation strategies are all about stimulating the buying process, stimulating the customer to interact with the brand and creating a strong emotional connect with the brand. A few effective strategies are:
Experiential Marketing
Also referred to as engagement marketing, experiential marketing is a strategy of creating an immersive, real-world experience for customers. The process may not involve the products but may communicate the values and the sentiments of the brand. "The purpose is to reach people on multiple levels (emotional, rational, psychological) so that they walk away from event remembering what is was like to touch, taste, and feel the product rather than just reading about it." Andrew Broadbent
 Promotional Marketing
Promotional marketing is the process of increasing brand awareness and through that, increase sales and customer loyalty. It can be targeted at businesses, retail, wholesale companies or end customers. Examples of promotional marketing are reward programs, loyalty points, membership offers, giveaways, product sampling, etc.
On – Site Activation
Hosting events in your retail stores or points of business are a great way of activating your brand. Points of purchase displays, product launch experiences, opportunities to interact with the product team, etc. are a few types of on-site brand activation. Participating in industry Events & trade Shows can help boost brand activation.
Brand Activation Strategies 2020
In his article Brand & Activation: What to expect in 2020; Scott Davis predicts these five developing trends:
Digital experience makes way for humans: While brands need to be digitally disruptive; they also need to create experiences that are deliberately human. Says Davis, "This year, we'll see brands think less about creating efficient experiences and more about injecting them with warmth."
Brands focus on trust issues: Consumer outrage on privacy and security issues are increasing by the day and they want to know what their favorite brands are doing to protect customers. "As people increasingly view tech companies as villains, we expect more companies to go on the offensive, convincing customers that they are one of the good guys." Says Davis.
Rethink your brand purpose: Purpose-based marketing is not new. Companies, however, have preferred to take the safe route and not take a bold stand on many controversial issues. With the coming of age of Gen Z (people born between 1997 & 2012); brands need to relook at this strategy. This customer base is a problem-solving group and are fiercely committed to changing the world. And they want their brands to speak their language.
Inspire people to be their best, happiest selves in these cynical times: We live in cynical times and customers want some relief from all the gory headlines and news. Brands that offer customers moments of lightness, laughter and escape will have a higher connect with their customer base. Says Davis, "We expect this urge to spread joy and connection to show up not just in messages, but in ambitious digital and IRL experiences."
Apart from these trends, brands will focus on their own employees. After all, satisfied employees are the best brand ambassadors!
Read through his article to know more.
End Note:
Brand activation brings a brand to life, it provides various opportunities for the customers to really get to know the brand and the values it stands for. It is not a flash in the pan jargon but is here to stay as a vital part of the marketing mix. Brands cannot afford to underestimate the power of a well implemented brand activation.
It is not a one-off activity. It is a gradual, multifaceted process; one that involves a lot of planning. But the results are totally worth it.